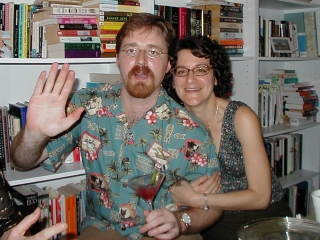 Jessica and I are expecting a child (frequently referred to around here as Baby Whozit), so, like a ridiculously large number of 21st Century American parents and parents-to-be, we've created a blog so that interested parties can check up on the pregnancy, the baby, how tired we are, etc.
If you're interested, bookmark it. (You serious nerds can subscribe to the RSS feed.) That way I don't have to send out "Baby did this…" email, or "Baby did that…" email or "Baby urped — isn't it beautiful?" email with an 18MB Quicktime video attachment of the aforementioned urp in slow motion and/or backwards to a wide group of potentially disinterested recipients (many of whom may still have 56K dial-up Internet access) every single time I create a sickening new digital memento of baby Whozit's first precious months.
So sit back, enjoy the relaxing beverage of your choice and peruse the latest entries at your leisure. You'll thank me for this one day. Seriously.