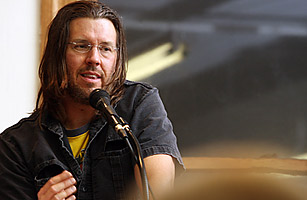 One of my favorite authors killed himself last week, and I'm terribly sad about it.
I have to confess that while I call David Foster Wallace a favorite, I never read his most famous book, the one all the obituaries will surely mention, Infinite Jest. There was no slight intended; it's just that those with longer attention spans than I didn't get all the way through1, and I was intimidated by its considerable bulk.
But I did read and love Brief Interviews with Hideous Men, Oblivion, and Consider the Lobster. And I devoured, laughed out loud, and fell in love with him while reading A Supposedly Fun Thing I'll Never Do Again, his tale of going on a luxury Caribbean Cruise and loathing it. The story resonated with me because, honestly, I can think of no vacation to which I am less suited than a luxury cruise. But I think that even cruise devotees might chuckle; surely the misguided vacation is a universal experience, regardless of the specifics. My poor dad, for example, just returned from a Russian vacation that he characterized as "grueling".
Anyway, I started reading ASFTINDA2 on the bus in San Francisco, and quickly realized that was the worst possible place read it for two reasons:
1. I laughed out loud so much that I looked quite insane.
2. I needed to look up many, many words, so proximity to a dictionary was a requirement.
And that's how David Foster Wallace came to be my literary crush in a little over one hundred pages and more laughs than I could count. He was screamingly funny, quite attractive in an offbeat way on his book jackets, and devastatingly brilliant with a MacArthur Genius grant to prove it.3
In the wake of his death, I'm reconsidering the full implications of being "devastingly" brilliant. Was he a tortured soul who struggled with depression his entire life?4 It wouldn't surprise me. I remember once reading a book review wherein the reviewer offered up DFW's seeming misery as a balm for readers suffering with feelings of inadequacy compared to him. In light of his suicide, that's not such a funny line anymore.
I'm sad such an enormous talent is gone, sad that I won't have essays and short stories to look forward to in the future, and of course sad for his family that's left behind. I'm also sad that a man who's genius was as limitless, dare I say "infinite", as it was unqualified, was blessed and cursed in equal measures. There's also some irony in the fact that that an author of all people would knowingly write such a pain-filled script for his parents' and wife's life from this point on.
We know more about David Foster Wallace's life and death now than we did when I began to write this5, but the key facts remain unchanged since his untimely demise. His was an original voice and prodigious talent, and the literary world will surely suffer for his absence.
1. Neither could Matt. For ages, a running joke in my house was my asking Matt, "So, did you finish Infinite Jest yet?" He, at least, had the guts to start it.
2. That's ASFTINDA as in A Supposedly Funny Thing I'll Never Do Again. When you give something a name that long, I can be forgiven a clunky acronym.
3. The Genius grant can be a poor joke. I know at least one winner who, while certainly above average, was equally certainly no genius.
4. According to a recent article that quoted David's father, he indeed has struggled with depression for over 20 years, had been hospitalized, and had had been in a particularly bad spot of it the last four months. "Everything had been tried," his father said, "and he just couldn't stand it anymore."
5. I wrote this the day before a business trip, only to get caught up in work and then caught in a power outage upon my return. Kid Amnesiac just came up today after the data center that houses our server, Iglou, was down for four full days. For anyone wondering why I mention this and the fact of David Foster Wallace's clinical depression in footnotes, I suggest you pick up one of DFW's essays or short stories and give it a once-over. You'll come to understand soon enough. I'll miss you DFW.