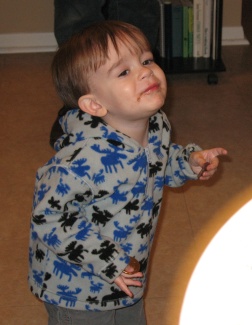 So I've been trying to write about our Chanukah, which was fabulous, for four days now. Thing is, I've been so busy getting ready for Chanukah (I was knitting on deadline), then helping with Chanukah, then getting my house in order and cleaning our basement, and then getting ready for Christmas, that each day ended at about midnight or one a.m. with tired feet and not one word set in type.
This lack of documentation has been especially frustrating since Simon has said, done, and understood so many new things in the last week or so that I would have had a hard time getting it all down even under optimal writing conditions. He's hit a developmental burst and is changing faster than I can write about it.
Now, four days after the fact, the whole thing is kind of a blur, and I'm going to have to settle for an impressionistic portrait of the day. The short version of our night at my mom's is that Simon had the time of his life. His evening began with a snack and some quiet reading time with my Aunt Linda, whom he clearly adores. Then the whole gaggle of cousins arrived, and while Simon didn't exactly play with them, he fed off their energy and played hard in proximity to them. There's a Japanese word for the type of companionship that involves people engaged in separate activities in the same room that I wish I could conjure up just now, so perfectly does it fit the situation.
Chanukah lesson number 1: Being with family is awesome.
After dinner came lighting the menorah and opening presents. Thanks to school, he understood what the menorah was and liked looking at it. Also thanks to school, he understood what presents were and really enjoyed opening them. My mom's gift of Henry (his favorite Thomas and Friends engine) was greeted with an enthusiastic "Hi, Henny!", Steve and Stacy's gift of a grocery cart got pushed around in endless circles, and Perry and Tia's gift of a remote control car bumped into walls all day Monday and Tuesday.
Chanukah lesson number 2: Presents are really awesome.
And then came dessert. Simon was handed a piece of Chanukah gelt-the first time he's ever been given pure milk chocolate. His eyes grew wide with astonished delight and, even before he finished the first piece, he was emphatically thrusting his left index finger into his right palm–Simon's own sign for "more". Once he could swallow, he made sure we understood what he was trying to communicate by saying in a deadly earnest tone: "I need moe. I need moe."
Chanukah lesson number 3: Milk chocolate is really, really awesome.
I can't remember exactly what else was said or done. He didn't try to play dreidel this year; I remember that. He devoured much mandel bread; I remember that. He said goodbye to the menorah by calling out "Bye, bye Chanukah;" I remember that. By the end of the night, clearly exhausted but not ready to go home, he said "Simon sit down," plopped on the floor, and found less strenuous ways to play. Mostly though, through the haze of already fading memories, I remember an incredibly happy and well behaved child.
Which brings me to Chanukah lesson number 4, for me alone: Watching your child have a great time is the best holiday present of all. I can't remember feeling so happy or having so much fun at Chanukah before, probably because I haven't since I was a small child myself. So marvelous was the night and the days since that I'm beginning to feel as though Chanukah is more than just the little festival it technically is and I steadfastly maintain it to be. For this year at least, Chanukah stands out as a clear highlight and a major holiday.
The full Chanukah album can be found here.