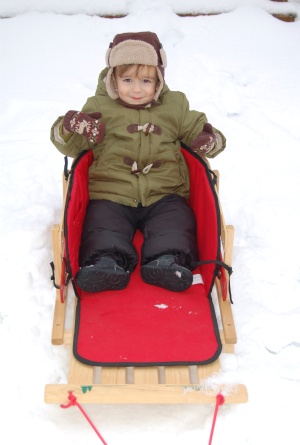 We're on our second straight snow day, and they've already called the rest of the week. Time to get the sled out! Today I put Simon in his cousin Ben's (size 4T!) bib overalls, dragged the sled outside, and went exploring.
We talked to some neighbors, met some neighbors for the first time, and had to change our route more than once due to a downed tree or powerline. Simon had a pretty good time, but the third time we passed the house he informed me that he "need home. " That seemed like a good sign to shut it down to me.
I'm hoping to get out again, preferably with Matt because I learned today that being the photographer and the sledge dog at the same time is a bit tricky.