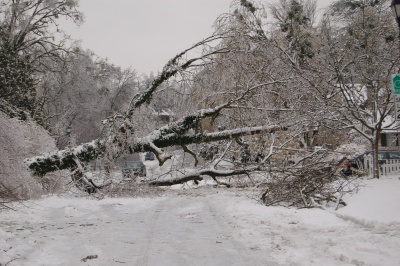 This tree is down the street from me. It's currently also, well, down. I took the photo at around 11:00 a.m. yesterday. At 2:00 p.m., when I walked to my Dad's house so he could take me to the grocery, a second, even larger tree, had fallen three doors down.
The significance of this is three-fold:
At least seven households are completely trapped, as the trees block the entire length of the lots on both sides and the street itself.
Stuff is still falling. Big stuff. I think today I will restrict my sledding with Simon to our yard.
Miraculously, both huge trees fell completely between houses. Trapped or no, I'm guessing the residents of Spring Dr. aren't complaining.