A brief anecdote: One of my favorite things about watching Simon grow and learn is seeing where modeling and patterning leads him to a logical—but incorrect—understanding or action.  I smile whenever he says something like "three deers" because, really, he should be right.
A new one has popped up this week as we have all struggled with the sniffles. Several times I have heard Simon sneeze and then quickly say in a bright tone:
Bless you, Simon.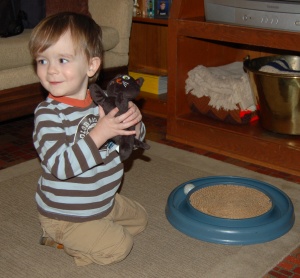 A brief update: It took a while, but Gallery (our photo album application) is back up. I have some January photos to go back and fill in, but February is filling out just in time for the month to end.