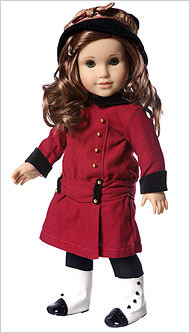 From a NYT article about the creation of Rebecca, the new American Girl doll, who is a Russian-Jewish immigrant living in New York City's Lower East Side in 1914:
"Hair color was a big issue, debated for years. At first it was a dark auburn, but it was thought that might be too untypical. Ms. Boswell said. Then dark brown, the most common hair color for Russian-Jewish immigrants, was discussed. But perhaps that would be too typical, too predictable, failing to show girls there is not one color that represents all Jewish immigrants."
It would appear that, based on the article and looking at the actual doll, my own Russian-Jewish looks are too, well… Russian-Jewish… to be given to a doll who is…
… Russian-Jewish.
Right then. I think I'm insulted. Or maybe just amused. Notice, too, that her hair is pretty straight. Then again, my own hair color and skin tone comes from my German/French grandmother [I'm 1/4 French/German, the rest is Ukrainian, Moldovan, Belorussian, and Lithuanian], and they did give Rebecca my hazel eye color. My own mother—wholly Eastern European—would have not looked Jewish enough with her dark blond hair and green eyes to be the model for Rebecca.
So I respect that the American Girl folks walked to a veritible mine-field with this one. It's just that, were I ten, I'd be really bummed out that someone finally made a Jewish doll and she still didn't look like me.