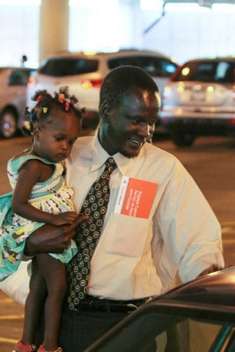 On Friday, August 6, at about 10:40 a.m., my friend Gabriel (birth name Kwai Akech Kwai) became a family man in the truest sense when his wife Alek and daughter Agotich arrived from Khartoum, Sudan, via Amman, Jordan, and Chicago, Illinois. And what a long, strange, trip it was.
They met four years ago through Gabriel's sister, who still lives in Sudan, and married in the spring of 2008 when Gabriel traveled to Sudan to have a traditional wedding in the southern part of the country. He was able to stay for about two months before he returned to the US to earn a living and work on securing Alek's visa to join him.
The wheels at the INS offices turn slowly, made all the more slow by the erratic mail service to a place like Sudan and the exponential costs of processing an immigration case. Medical exams, DNA tests, travel to Egypt for interviews (we don't have an embassy in Khartoum), regular mailing of papers at $100 a shot, and passport fees quickly make the process stretch out to well over a year and cost upwards of $8,000. I don't know how anyone does it.
Gabriel's case took just over two years start-to-finish. And while he was juggling jobs and paperwork on his side, his wife gave birth to their baby girl back in Khartoum in January of 2009, a daughter he only saw in two photographs and heard in the background of phone calls until Friday. He missed the entire first 18 months of her life: first smiles, first steps, first words—all of it. It's heartbreaking, made all the more so by the knowledge that Gabriel himself was separated from his family at age nine and hasn't lived as part of a nuclear family in the 23 years since.
This was all supposed to change when Alek's flight arrived in Louisville Thursday night, but even that turned out to be complicated. First she spent a frantic 12 hours racing around Khartoum the day of her departure when bureaucrats at the office of international departures (AKA, the office of last-minute extortion) invented new paperwork they required of her. She could hardly argue or appeal when she had a plane ticket worth $2300 in her hands. So she drained her savings and got on a plane with a cell phone that quit working once she left Khartoum, no US money, Sudanese pounds no one will exchange, and a cousin's bank card and pin code.
The rest of the story after the jump:
Then her flight out of Amman encountered mechanical problems and had to turn around after one and a half hours. They re-boarded four hours later, putting the total delay at seven hours and having her arrival into Chicago come thirty minutes after the last flight of the day to Louisville had already departed.  I was able to get hotel information from the desk agents at Royal Jordanian airlines, and Gabriel was able to arrange for a friend in Chicago to drive there and check on the two.
Meanwhile, Louisville congregation Adath Jeshurun had sent out press releases about the big day and hoped to secure media coverage of the reunion. They got involved when Gabriel spoke to the congregation and told them his life story last September. His speech was so moving (and I'm totally taking some credit for that, as I interviewed Gabriel and worked hard to write a speech that sounded like him and would resonate with the congregation), that the rabbi was moved to enquire about the wife and daughter Gabriel mentioned at the very end of his talk. When he learned Gabriel had to scrounge up at least $6K before he could bring his family here, the rabbi and cantor decided to make it an official synagogue cause. To their immense credit, they reached their goal in about two weeks. Mensches.
So this was to be a feel-good story in the news about a local synagogue helping a Lost Boy, and since Friday morning was a slow news day, four television crews, the local NPR station, and the newspaper were all there. It was a mad-house. Gabriel and Rabbi Slosberg rotated from interview to interview while I gave background information and helped the various news crews spell and pronounce all the names involved and get their dates straight. Fox 41 even put me on camera to speak of Louisville's accommodation of the Lost Boys in general.
"Wouldn't it be funny," I mused to Cantor Lipp, "if we're all so busy with the news crews over here that we miss Alek coming through security?"
He gave me a wry smile of agreement, and then that's EXACTLY what happened. Out of the corner of my eye I saw a lovely woman in yellow and green African dress walk into the terminal carrying a very young child. Just as I registered who that had to be, Gabriel's friends Pajieth and Solomon approached her. "Oh my God," I screamed, "she's here, she's here." Gabriel was still in front of a camera, but he extracted himself hastily.
Talk about an anticlimax. The next half hour or so was a blur. Agotich, poor little tired Agotich, clung to her mother but eventually allowed herself to be held by her Auntie Yar, her honorary Uncle Solomon, and eventually her Daddy. The news crews followed them through the gate, down to baggage claim, and some all the way to the car. I think many were confused that there wasn't a huge, romantic embrace at the terminal, but Sudanese simply don't allow for that; restrained dignity was the order of the day.
By Friday night, we were all over the news. I'm still a bit bummed that two tired passengers arrived to a media onslaught, but this concern is now far outweighed by the two very considerable upsides of the commotion. First, we generated a lot of publicity for the Sudanese' cause and Adath Jeshurun's outreach and generosity. And second, Gabriel now has quite a record of his family's reunion to share with his daughter when she's old enough to understand it. For a man with no pictures from his own youth, this has to feel good.
News coverage (most with at least a few factual errors, what can you do?) can be located at the following links:
WHAS:
http://www.whas11.com/home/Man-reunites-with-wife-daughter-emotional-moment-10-years-in-the-making-100129534.html
WLKY:
http://www.wlky.com/family/24541308/detail.html
WFPK 89.3:
http://www.wfpl.org/2010/08/06/sudanese-man-reunited-with-his-family-in-louisville/
Courier Journal (link changes daily):
http://www.courier-journal.com/apps/pbcs.dll/article?AID=2010308070008
Photo Album:
http://www.courier-journal.com/apps/pbcs.dll/gallery?Avis=B2&Dato=20100806&Kategori=NEWS01&Lopenr=308060070&Ref=PH
WAVE:
http://www.wave3.com/Global/story.asp?S=12938584
FOX: