Yesterday morning, my friends Gabriel (AKA Kwai or Akech) and Alek (AKA Mama Agotich) welcomed their second child, a daughter named Anyieth. I'd be happy for them no matter what, but the fact that this baby arrived on my 14th wedding anniversary made it especially sweet. Of course, the more significant circumstance is that this baby was born here, in the US, and will go home with her mother and father. Gabriel missed all of this with Agotich, who was born in Sudan and arrived here at 19 months.
But let's not dwell on the negative. Here's the sweet photo I've been anticipating: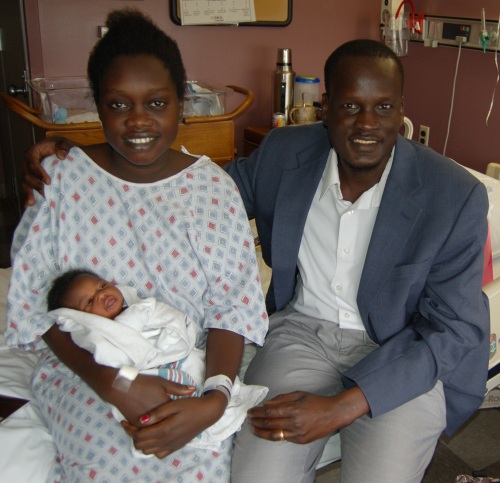 Gorgeous family, eh? This picture hardly does little Anyieth justice. She has large almond eyes, a rosebud mouth, and a clear and bright complexion. She's just lovely, and at one day old she was already taking in everything with her eyes. I was lucky to arrive this morning at a quiet active phase and get to hold her for some time. There's nothing quite like cradling a newborn.
Welcome to the world, Anyieth. Mama Simon can't wait to see you grown up.