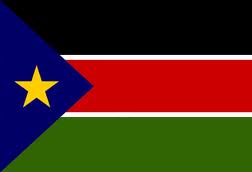 (NO apology to epic racist D.W. Griffiths for this one.)
To the delight and relief of many of my friends, the Republic of South Sudan became the world's newest country and the 54th sovereign nation in Africa on July 9, 2011. The Sudanese community of Louisville threw a big party to mark the occasion, and Simon and I were there. (Matt was home sick with a stomach bug that's had him down for four days.)
Once I saw the event program, I had my doubts as to how long Simon would last. The planned festivities included two prayers, the raising of the new flag of South Sudan, the singing of the national anthem, and two musical performances. This was all good. The program also listed nine speeches, not including the speeches that introduced the speakers who give the actual speeches. By my arithmetic, we were looking at a solid two hours of talking in a room with acoustics that made it hard to hear what people were saying. Oh boy.
As I had described this event to Simon as a birthday party for the country our Sudanese friends are from, he was expecting the day to include way more singing, games, and cake—above all, cake—than it did. It also didn't help that nearly two hours after we arrived, his friends Agotich and Aciek had not yet shown up, as their moms were busy cooking for the party and working, respectively.
Simon sang and clapped along with the visiting African American Baptist church youth choir when they sang, especially liking the clapping part. When my friend Gabriel raised the new flag of South Sudan and led the room in the singing of the national anthem, Simon dutifully put his hand over his heart and let me to lift him up so he could see the children and Mr. Gabriel better. And when we ran into people he knew, people like Kuol, Yar, James, Pajieth, Wesley, Gabriel, and Solomon, he remembered to smile, shake hands, and say "congratulations" as I had coached him.
But still there were all those speeches. At the two hour mark of the party, Simon was wilting and I told him we could go home. I also heaped praise on him for being so respectful during the speeches and acknowledged how hard it is for everyone—kids and adults alike—to sit for that long. On the way out, Gabriel's niece Yar looked visibly upset that we were leaving and offered to go fix us both a plate of food to take home. Then, once we got outside, he sat on some steps and observed as small groups of mostly Dinka and Nuer men grouped and disbanded on their way in and out of the room. Sensing that Simon was tired of the speeches but not fully committed to leaving, I asked him if he wanted to go home, or if he just wanted to take a break and then go back in for the rest of the party.
This is long, so you can read the rest after the break.
Unbelievably, he chose the break option. So five minutes later, we were back in the Bakers Lane fire-fighters gym listening to three (or was it four?) more speeches. Thankfully, Alek showed up with the girls at the exact time we returned, and Agok followed with Aciek (pictured in the banner above playing soccer with Simon on July 4) shortly after. The kids hugged and tickled each other, Aciek played with Simon's hair (he's fascinated by straight hair), the speeches (finally!) ended, and Simon got to stay for his favorite part: As one man ran around the room with the flag of South Sudan, a large group assembled at the front of the room, chanted, and danced by jumping up and down in place and pumping their fists into the air.
In what had to be my favorite moment of the day, I looked over to see Simon smiling widely, jumping up and down himself, and thrusting his own tiny, pale fist into the air, where it joined a sea of larger, darker ones.  There were a handful of other non-Sudanese at the event, but only a very few and none young enough to un-self-consciously join in the chanting, clapping, or dancing. How I wish I had had a camera to capture the moment.
We left after I gobbled down some food. It had been four hours by then, and while I was delighted to tuck into kisra, greens and groundnuts, and some other stuff I can neither name nor describe, Simon is not the culinary adventurer I am. So while I shared my plate with an eager and hungry Aciek, Simon tried one or two things and then called it quits. Which was more than fine with me, as I thought and still think that he was an amazing trooper for a child his age.
A few more random thoughts:
The dress code for ladies was a sight to behold: Women resplendent in traditional dress of either brightly patterned cotton dresses or solid colored, embellished long suits; young girls in fancy, frilled dresses, and teenagers in micro-minis and sky-high heels, looking like teetering storks—most sporting long and elaborately arranged braids. Standing out among the crowd was one young girl, around five, in a simple denim skirt, white ruffled shirt, and hair worn in the traditional Dinka style (short and natural). She was such an artful blend of tradition (skirt, shirt, hair) and modernity (the skirt was denim and the shirt stylish) that I wish I could have gotten a picture of her, too.
I regret forgetting to tell Simon about ululation before we arrived. When the women started, he was quite startled and perceived it as screaming. Had I been able to show him a YouTube video and described it beforehand, my explanation of "clapping with your voice" would have worked faster.
I also wish I had dressed Simon better. I put on a skirt, nice top, and heels, but let him wear a simple tee and shorts. And wouldn't you know it, most of the other boys were in nice shirts and long pants, with more than a few in tiny little suits. This fall, I'm buying Simon at least one set of genuine dress clothes.
I was simultaneously heartened and saddened by the fact that Simon did not seem to notice that we were at a party whose attendance was 99% very dark sub-Saharan African. Heartened because he's been around enough Africans and is young enough that such things don't register with him, and saddened because I know this won't last forever. I wasn't uncomfortable yesterday, but I certainly was aware of being "other." But Simon? If he did notice, he didn't say anything or show it.
Kudos to the City of Louisville for sending, as a representative of the mayor's office, a Persian immigrant who eloquently and thoughtfully congratulated Louisville's Sudanese for the independence of their homeland and described his own experience of building a new life in one country while caring about and anxiously following events in another. It was just the right note for the occasion and audience.
Finally, I was again reminded of how wanting many Western rituals are today when Simon asked repeatedly if we can run around with an American flag and dance next year on July 4. It's a great idea, except for the life of me I can't expect my nice middle-class family to go for it with the same gusto my Sudanese friends displayed.