Now we come to two of the three schools we have visited to date:
Bloom, our "resides" or neighborhood school, and the B-cluster school we have the best shot of getting into;
Brandeis, the district-wide MST (math, science, technology) magnet school, and our favorite of the two magnets we toured.
Helpfully, we visited these schools on back-to-back days. To have a shot at Bloom, we need to rank it first among neighborhood schools and fill out our general assignment paperwork completely, correctly, and on time. That means I'd be delivering it to the school the first week of February. To have a shot at Brandeis, we need to rank it first among magnets. We are also required to submit an evaluation and skills summary from a teacher or care-provider. Applications are scored by team, and parents may earn points by attending a Brandeis tour, going to the JCPS showcase of schools in late January, and attending a Brandeis family night in February.
Either of these schools would be a fine option for Simon, but we think one is a better fit for him than the other. Come along and see if you can tell which one it is. There will be a quiz at the end. Descriptions and more after the break.
Bloom
The Facility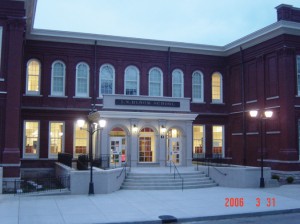 This is I.N. Bloom Elementary School. It's located 1.3 miles from our house, and its back entrance backs up to the parking lot of our favorite coffee house. The original 1890 building and 1968 addition underwent a major renovation a few years back. It cost $6.8 million before all was said and done, and the school features top-of-the-line everything. From the vaulted ceilings and hardwood floors to the stained-glass entrance windows made by the kids themselves, Bloom is a thing of beauty.
The Tour
The principal, Ms. Bobo, is very well liked and is clearly proud of her school. She's also clearly very sympathetic with anxious parents who are freaked out by the JCPS assignment plan. On that score, she offered the unexpected news that for the last two years, Bloom has been able to accept all the resides kids who choose it first, complete their paperwork correctly, and turn everything in on time. That's not the same thing as a guarantee, but it sure is reassuring.
Ms. Bobo took us to almost every classroom and was very generous with her time (and tissues; this is the tour during which I cried!). In a kindergarten room, kids were sitting on a rug and reading along with the teacher as she pointed to words in a sequence. "Today is Thursday, the first day of December. December is a month…." In the gym, older kids were playing dodge-ball. A third-grade class was working on personal essays, ("I took the bus to CEP. I had a snack. I went to the bathroom" began one.), and the second-graders we peeked in on were working on addition worksheets. In almost every class, 20-25 students sat in chairs or in a circle while a teacher lectured up front or went from desk to desk checking work. Each kindergarten also has an assistant in the room.
We also visited a science room, empty at the time, where the principal told us how much more excited the kids are about science when it's all hands on, giving their current study of cock-roaches as an example.  "You can't believe how much they love them!" she laughed. "Thankfully, they don't scurry the way the ones you find in places you don't want them do. Anyway, we can't let the kids see if we are bothered by them." I could sympathize.
We were shown the new playground equipment, a gorgeous library—those high ceilings again!—and a modern cafeteria. The cafeteria had a sign up about bullying, as Bloom participates in a program aimed at developing good citizenship and social skills among the kids. Bloom offers Chinese as its foreign language instruction once a week, social studies twice a week, and science twice a week, the latter two with the same teacher. Reading, writing, and math are daily parts of the core curriculum, and once a week the students rotate between enrichment activities such as music, library, art, or Chinese.
The teachers seemed like nice ladies, and the student work posted on the walls featured the expected and cute autobiographical essays, essays on science, and self-portraits. The school was otherwise decorated with many samples of student-created art, including some pretty cool three-dimensional masks. Another charming touch was the inclusion of upside-down "fu" characters (Chinese for good luck) over many of the school's doorways.
The Demographics:
The demographics were about 73% white and 27% non-white; with the vast majority of the non-white kids being African American. Most of the kids enrolled come from the Highlands; the balance arrive from nearby A-cluster neighborhoods.
The Strong-Suit:
Bloom's standout area is the arts. Budget cuts have all but eliminated arts and music from schools in Kentucky these days. Those that have it do so because of grant writing and PTA-led fundraising. Well, the Highlands is a neighborhood where the arts and arts education is highly valued. As a result, Bloom offers visual arts, sponsors an artist-in-residence program, and has weekly dance and music class. When we toured, the music and dance teacher was preparing a lesson in the Virginia Reel. Many of us parents wanted to stay for that one ourselves.
And the stained glass at the school's entrance came about via a field-trip to Glassworks, a local glass-blowing studio. The school only pays for a small part of this arts enrichment: The PTA does most of the heavy lifting, and Dr. Bobo was clear that there would be a riot if she ever withdrew her support and partial funding. At present, the music teacher is busy readying the kids for their upcoming Christmas program. The library also works to bring in children's book authors once a year for special library presentations.
The Bottom Line:
Bloom is, no doubt about it, a good and beautiful neighborhood school that reflects the demographics and values of the population it serves. Odds are, if Simon were to go to Bloom, he'd be joined by at least one kid from his preschool (possibly the much loved Caroline) or extracurricular activities. His bus ride would be short, or we could drive him there in less than 5-10 minutes. I know several folks with kids at Bloom, and all are very happy there.
Brandeis
The Facility:
This is Brandeis.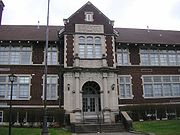 Or at least it was. Brandeis was built in 1913 in the Tudor style and is listed on the National Register of Historic Places. When the original building became too small and expensive to maintain, no one lovingly restored it. Instead, in 1992 the school decamped a few blocks away to a new concrete and brick building of no architectural interest. Brandeis is located at 28th and Kentucky, between the Parkland and California neighborhoods, a prime example of urban decay if ever there was one. It's a high crime area with many vacant lots and boarded-up houses.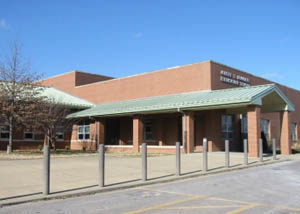 The campus is surrounded by a high chain-link fence and is located across the street from a (defunct?) factory. The whole area looks like nothing so much as a set for "The Day After" or a Superfund site. If I had to sum up the atmosphere in a single word, I'd go with "apocalyptic". My heart sank when I took the scene in.
The Tour:
Brandeis, as I've previously explained, is an MST magnet. Our tour was led by a very enthusiastic magnet coordinator who was clearly proud of her school. This woman, Ms. Shewmaker, was very patient in explaining the application process for the school.
The Brandeis tour also took us into every classroom. I watched kindergarteners work quietly at a variety of stations in one room while the teacher worked with a small group by his desk. In another class, the kids were singing their do-re-mis with accompanying hand gestures. When I ducked into one third-grade class, the kids were taking a PE break and doing yoga in the room. In other, students were taking turns giving power-point presentations on famous mathematicians.
In a science class, fifth graders were excitedly tending to their cock-roaches.  We were invited to walk in and talk to the students about their work. Matt opted to meet one student's cock-roach while I declined.  In another science lab, the kids were gathered around the teacher discussing something or other (I didn't catch what) while a pile of model-suspension bridges sat alongside one wall. "I can explain how a suspension bridge works all day," the teacher explained, "but it's nothing like having them build one and see what works and what doesn't." Kids in the computer lab were working on technology assisted self-portraits.
There is some music offered at Brandies, art if you count computer generated stuff, and also Chinese once a week. On the whole, the teachers seemed engaged and pretty lively. Some of the classrooms were quiet and orderly, while others were bustling, noisy affairs.
Throughout the tour, I stopped to look at student work posted in the halls. There were math samples produced in whatever format the kids most liked (long-hand, graphed, keyboarded), and essays about famous mathematicians. There were also autobiographical pieces that had to take the form of poetry. While we were there, many of the bulletin boards were empty as the students and teachers got ready for their upcoming diversity week, in which they will be sampling music, food, and artwork from all cultures in the building. Brandies is also starting to experiment with container gardening, though Matt and I are both skeptical about this endeavor unless the resulting produce is first tested for heavy metals.
The Demographics:
This school enrolls students from over 50 countries who speak over 20 different languages at home. Whites make up about 35% of the student body, with large numbers of East and South Asians and Africans filling the halls. It is not uncommon to see African girls in headscarves and traditional dress. It is, by a long shot, the most diverse school in the district. To be honest, it's more diverse than I would have thought possible in a Midwestern/Southern city like Louisville. At the big party that comes at the end of diversity week, students are invited to wear national costumes; I'm wondering if hoodies and jeans count….
The Strong Suit:
Brandeis has, as expected, high math and science scores. It was also clear to me that science was part of the daily, not weekly curriculum. But the highlight of this tour was the library, a space with all the charm of a large walk-in closet. The woman who runs the media program at Brandeis, Ms. Bell, was personally responsible for making our tour run over by a half hour, so enthusiastic was she to show us the work students do there.
She gets kids in the library and media lab for a month at a time. Kindergarteners work on things like self portraits, have story time, and are introduced to the collection's holdings; primary students learn the rudimentary rules of research; and fourth and fifth graders put together books and multi-media presentations using film, animation, and technology-assisted arts programs. The presentation I remember best was a film three boys put together on blood cells. Aside from the animated blood cell that had leukemia, the other distinctive feature was the portrayal of a doctor who was inconveniently afraid of blood. He passed out in the movie three times. Next up, Ms. Bell is working to create a section of the library that will hold student-created works.
Ms. Bell informed us that Brandeis works with a local private school to bring in visiting authors, that students frequently email scientists all over the country with questions, and that she has to borrow bandwidth from the University of Louisville to host student projects because she jammed up the whole JCPS system a few years back and got in trouble. Every couple of years, Ms. Bell is introduced to a new technology suite that she wants for the kids. There's never money in the budget for it, but she usually ends up getting it anyway due to prolific grant-writing.
The Bottom Line:
Brandeis is clearly good at what it's supposed to be good at: math and science. I also get the impression that, via the media lab, they provide artistic outlets for those inclined towards design and drama. Were Simon to attend Brandeis, we'd be looking at a long bus-ride, possibly as long as 45 minutes, or a drive of 25-30 minutes each way. I don't know if he'd know anyone else in his class. I do have some acquaintances with kids at the school, and they've been very happy.
Quiz
And that wraps my tale of two schools. So, dear readers, where is our money going next year?
The Gas Tank: We're putting Brandeis first. Simon can wear a kilt (he's a McLean on is step-grandmother's side) for multicultural day and befriend a cockroach. Bonus: it's named for a Jew.
The Coffee Shop: Our hopes are pinned on Bloom. Simon can work with a real artist and have school friends in the neighborhood. Bonus: cupcakes next door and did we mention wanting to put a stained-glass window in our dining room?
One additional note: Three of Simons cousins, Steve's kids, have gone to one of these schools. Liv and Maddie will be in middle school next year, but Ben has two years left.  I'm declining to say where they go, as I consider that information prejudicial. Do note that Steve lives about a mile from me.