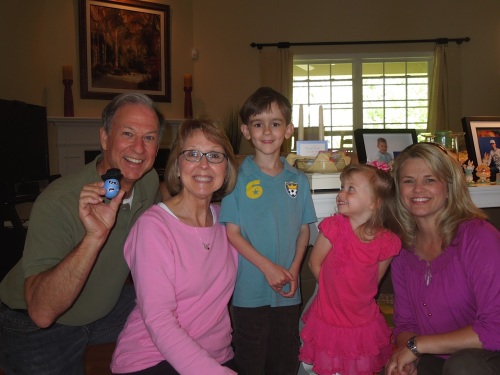 A few doors down from Jim and Evie live E and H, a retired couple like them who often have their grandkids (Taylor, 5, and Tori, 3) over to visit. Whenever possible, Evie tries to grab Simon on a day that E has Taylor. The boys play well together and are fast friends. Simon tells me all about his time with Taylor. He mentions Tori less, except to ask "why does she follow me around all the time?", to which I answer, "because younger sisters always want to keep up with older brothers."
I know something about that. When we arrived at Jim and Evie's for Easter lunch, Taylor happened to be outside his grandparents house. Simon saw him, and made a beeline for E and H's place before even stopping inside his grandparents' to say hello. When he hadn't returned within 30 minutes or so, Evie went to collect him and joked that she might just find Simon sitting at her neighbors' holiday dinner table.
She wasn't far off! Simon was indeed settling in comfortably, including the family holiday portrait taken above. I love this for three reasons:
I love that Simon is of an age that he can disappear to other people's houses of his own choosing;
I love that Taylor isn't in this picture because he was the one taking it (and doing a great job);
And I love the look Tori is giving Simon. Me thinks there's something other than trying to keep up that keeps her chasing Simon around!