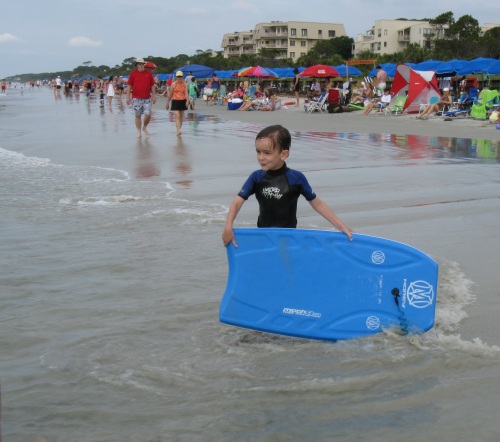 Oh wow. It's lunch on our third full day at Hilton Head Island, South Carolina. So far, Simon has enjoyed the following:
Tennis: He's already played four times
The Beach: He's been three times and today tried out the boogie board. He rolled a bit, but took it like a champ, sang Beach Boys songs, and asked for more. The wet-suit we got for swimming lessons more than paid for itself during this adventure.
Bike rides: Our primary mode of transportation, Simon has been on a tandem attached to Matt's bike. Of course he loves that too. We had one 8-mile round trip to South Beach that he particularly enjoyed.
Now we're off to the pool, which I need to hurry him to before he goes an heretofore unprecedented hour without physical activity. Which reminds me, after yesterday's bike rides, tennis practice and exposition, and trip to the beach, Simon capped off his evening by sprinting for a half mile.
Five-year-old boy energy is pretty amazing. If I can keep up with him for the rest of this week, I have no doubt I'll be in the best shape of my life, running injury or no.
And we're off!