Can you guess the family member by the weekend itinerary?
Friday: Dinner out with just-arrived friend from Bay Area.
Saturday: a.m. Soccer game (to play). 10:30-3:30 spectator at World Championship Cyclo-cross Event. Evening visit with old friend.
Sunday: a.m. Brunch at Molly Malone's to watch big Liverpool vs. Manchester City game (soccer), evening Super Bowl gathering with neighbors.
Monday: Dinner with about-to-depart friend at Sergio's World Beers
Throughout: Foosball games and discussion of various greatest soccer goals ever.
Need another clue? Here's one: Monday from 9:05 to 3:45 this person was occupied with kindergarten. And the Saturday night visit was called a "play-date".  Actually, it was a sleepover with Caroline that friends Carrie and Barry kindly offered so the three grown-ups could go out and have a late dinner. And yes, that does mean that we hauled our six-our-old to an all-day outdoor cycling event on a cold February day and then fed him–twice!–at pubs.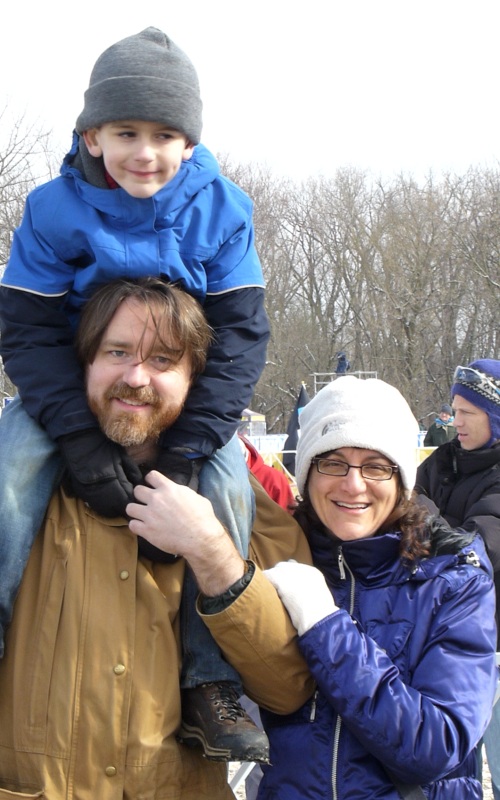 It was all quite marvelous. Our friend Ian arrived to visit and take in the Cylo-cross World Championship, and he treated our whole family to the competition. When the original two-day event was condensed into one, that left us free to make an event of the Liverpool vs. Man City game. As Ian pulls for Liverpool and Matt for Man City, the game's timing was impeccable.
It's always fun to try new things. And even more fun to do so with old friends you miss. But the icing on the cake may have been Simon's inclusion and participation. Sure, he got tired and cold at the bike race. (He told me at one point that it felt like his shoes were eating his feet, an evocative description of cold-related pain if I ever heard one.) And the crowd at Molly's was too loud for him at the beginning. (Our boy is a fair weather fan, too. One look at the all-Liverpool crowd at Molly's and the scoreline after a strike by Liverpool's Gerrard, and Simon switched alliances on the spot.) But for the most part, he hung with the grown-ups pretty well. And he quite obviously loved getting his dude on with the big boys.
Then again, he also spent the entire night at Caroline's playing with a balloon and filled dead time at restaurants by miming great soccer goals using only his hands. The seamless back-and-forth between child-like flights of fancy and adult interests is easily one of the most charming aspects of Simon at 6.