About a year and a half ago, I dragged Simon out on a run with me. He was six and made it two miles, and I was pretty impressed. By the summer's end, I decided he could run the Dare to Care Hunger Walk with me.
Here's what the Hunger Walk sounded like back then:
"Mama, I think I need to take a short break. Did you bring the honeysuckles? [honeystingers energy chews]"

"Come on buddy, we're almost there. You can do this!"

"Let's try to pick it up just a little bit, OK?"
And here's what it looked like: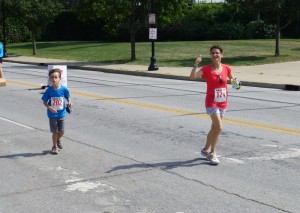 We finished in 43 minutes, and he was pooped. But he was only six and he made it 3.1 miles! I was so proud of him I could have burst.
This year we only got out to run once or twice. He wasn't that into it, and he was busy with soccer,  tennis, and swimming. I signed him up for the Hunger Walk again this September because I wanted the company and the fundraising support. I also persuaded his soccer coach to do the run with us.
Here's what the Hunger Walk sounded like last month:
"Simon! Simon! Slow down buddy. You're going out too fast and are going to bonk."

"I got this Mama."

"No Simon, trust me. If you go out too fast you feel really bad after a mile or two. You need to let yourself warm up."

"I'll be OK, Mama."

[me to water station volunteer]"Hi, Excuse me? Have you seen a young boy, not quite 8, pretty skinny in a blue shirt run by here?"

"You mean number 109? He flew by!"

"OK, great. That's my son, and I lost track of him."

"Well, his legs are younger than yours. It's OK."
And here's what it looked like: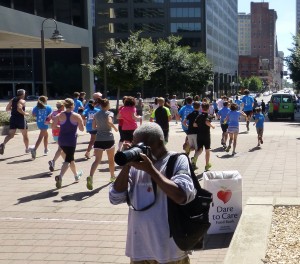 We're on the far right. I'm in the blue top and grey and white skirt, and Simon is in front of me to my right. Soon he would be further in front of me. By mile 1 he would turn the corner ahead of me, and I would next see him at the finish line.
Yes, that's right. Within the space of a single year I went from slowing down to run with Simon to not being able to keep up with him. He ended up finishing in 28:18, and that includes time wasted slowing down (briefly) at my insistence and looking over his shoulder to see where I was. In his own words, it was kind of freaky crossing the finish line because he didn't see anyone he knew there.
His time put him in 3rd place among children under 10 in the race, and it lit a fire under him. He wanted to run another 5K as soon as possible, and this time he wanted to win something. So we signed up for the Highlands Cup 5K, a much hillier course that runs through my neighborhood and the park adjacent to it. As 5Ks go, it's a challenging race.
I told him all of that, explained that many of the youth runners will have had cross-country experience, coaching on running form, more practice, etc., but he was having none of what I was selling. He wanted to run fast and get a medal, and nothing I could say would change that.
Here's what his 5K sounded like this past Saturday:
"My legs started to hurt at about mile 2.5, but I wanted a medal so I pushed through."

"This grown-up told me to follow him for pace, but I wanted to run faster than he did so I said no thanks and ran past him."
And here's what it looked like: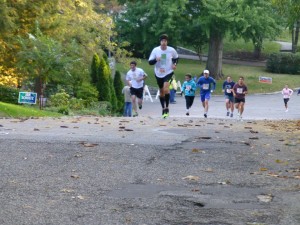 That's Simon charging up a hill to the finish line. It also looked like this: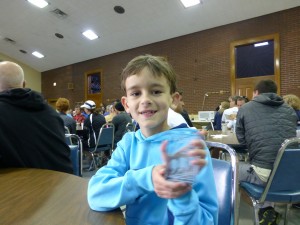 That's Simon holding his 3rd place trophy. He finished in 24:54 and placed 3rd in the Men's Division age 9 and under category. He also won a gift certificate to the local running store in the raffle at the after-race pancake breakfast. By 9:30 a.m. he was already sure that this was the best day of his entire life.
By dinner he could hardly move, as dropping three contiguous 8-minute miles with no training, coaching, or proper stretching tends to leave one stiff and sore. Today he had to skip part of soccer and we rescheduled tennis for Tuesday.
The pain has done little to diminish his enthusiasm. He's got plans. He wants to run more races this fall. He wants to run the Hunger Walk in 23 minutes next year. And in two years he wants to win one of these suckers.
I'm not about to tell him he can't!