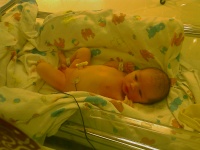 We got the exciting word that friends Kelley and Kaya welcomed their first child, a son named Thaylo William, in the wee hours of the morning of the twenty-second. Later today, we got more of the scoop.
The short version is that Kelley was 42 weeks and 3 days pregnant, kiddo had no intention of budging, and science had to intervene. One day she will be able to use the story of his late and laborious arrival to guilt him into good behavior or at least get a really good mother's day present from it. Work it Kelley!
In the meantime, we're pleased to see that Thaylo is cute as a button, and we sincerely hope mom and dad are making use of the hospital staff and getting some sleep. Welcome to the world, Thayo. It's about time you joined us!!