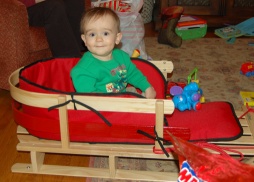 It's a bit after 11:00 p.m.., and I just wrapped my second Christmas Eve. Simon is asleep after having a very busy day, Matt is downstairs watching Monty Python videos (my present to him) after a sort-of busy day, and the cats are napping after having a not very busy at all day. It's good to be a cat!
Last year I decided to begin hosting Christmas Eve, or erev Christmas as I think of it, on a regular basis. As I was tied down with a nine-week-old, colicky infant, the inaugural affair featured store bought desserts and not much else. This year, I was able to put on a full dinner; we dined on baked salmon, colcannon, green beans, poached pears, chocolate pound cake, coffee, tea, and a nice pinot noir. I even had my mom bring over my Bubbie and Zadie's silver tea set for the occasion.
Christmas is certainly a very different affair now that Simon is with us. Whereas two years ago I wouldn't have thought about hosting anything at all and last year I kept it short and simple, this year I had the feeling I was establishing a tradition that would make for important, happy memories when he's grown. With this in mind, I happily bought planters for my porch and festooned them with giant red bows, I decorated my sideboard and table in a Christmas theme, and I bought more presents than usual. I had a better time than usual, too.
Simon participated in the festivities more than I expected him to. I've always heard that one-year-old babies don't much care about their presents, but love the boxes they come in. Not my boy. He didn't care a whit about the boxes, but he sure was excited about his zoo train toy from Aunt Barb and his books from Uncle Dan! He also enjoyed some of the salmon and colcannon, loved the goat cheese I had out for an appetizer, and was mad for the chocolate pound cake. His slightly sour, over-tired mood reversed itself completely once everyone arrived and started socializing, and he even pulled to a stand a few times after presents were opened. To be honest, he was in an even better mood earlier today as I was preparing dinner and he was kissing his own reflection in the dishwasher, but I'm sure in ten years I'll forget that part.
Pictures from today are loaded on Gallery (check out the new link on the right), which we are slowly rebuilding after the crash. Merry Christmas, all.