For Christmas 2006, Aunt Barb got Simon a crib aquarium. It's been a key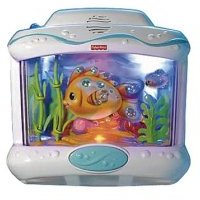 component to our nap and bedtimes for ages now. Here's what the folks at Fisher price say about how or why it works:
"The Soothing Seas Aquarium is a crib attaching infant soother that captivates baby with the mesmerizing effects of water. Lovely classical music plays one of 5 songs (or one of 3 sound effects) all the while bubbles rise upwards to the "surface". Mama Fish has a realistic motion as she appears to be swimming through the water, followed closely behind by her baby. Their little crab friend plays peek-a-boo behind the coral as the seaweed sways gently in the waves."
I love the crib aquarium, but I have to admit I haven't always taken it seriously. I giggled at its babyishness, even as I appreciated how well it worked.
I'm not laughing any more. Tuesday morning, after a truly God-awful, sleepless night with a stomach bug, I was a wreck. At around 10:00 a.m., I came downstairs to rest uncomfortably on the couch having just spent several hours resting uncomfortably upstairs in bed. Matt came in and turned on the TV to a show called "Sunrise Earth", which captures sunrise in various locations across the world. On this particular Tuesday, the location was the Great Barrier Reef.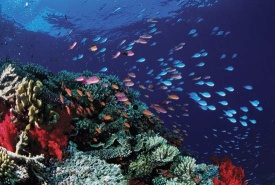 The show is shot in HD, presented in real-time, and contains no narration. As I stared at the coral, watched light move across the water, and watched fish swim around in groups, I began to relax. I noticed my aching head less, my dry mouth less, and my cramping legs less. I was both soothed and captivated.
Sound familiar? Within thirty minutes, I was snoozing on the couch quite comfortably. That night, as I disassembled Simon's crib to clean it after he threw up, I took a long look at the crib aquarium and felt a newfound respect for it.