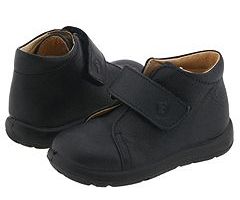 No, nothing magical happened overnight; kiddo still ain't walking. However, as Simon's Robeez have very thin soles, and as it will be 9 (brrrr) degrees tomorrow, I decided it was time to get a pair of pre-walker or first-walker shoes for him to guard against the cold if nothing else. And who knows, maybe a little support will give him a nudge.
With this goal in mind, I set out to Stride Rite today to buy Simon his first pair of real shoes. I was excited! After all, these are the shoes that will later be bronzed and live with us forever. I pictured myself consulting with an expert over the best type and size of shoe for Simon, and I was genuinely looking forward to the outing.
I should have known better.
Matt and I hit Stride Rite and my happy little image was immediately shattered. The place was crammed, and a single teenage clerk was staffing the shop. When after five to ten minutes I hadn't even been greeted, I stormed out in a huff.
My backup plan was Von Maur, a Nordstrom like store in Louisville. They aren't cheap, but they offer great service…. Or at least they usually do. Today I stood in the children's shoe department surrounded by several other sets of annoyed looking parents as a single clerk tended to a customer making an exchange. It was every bit as bad as Stride Rite, only I didn't even like the shoes they carried and they had fewer places to sit.
By this point, I was in a totally foul mood. We live in one of the most aggressively consumerist societies that has ever existed on the planet. I take that back; we live in the single most aggressively consumerist society that has ever existed on our planet. Why then, for the love of all that's right, is it SO BLASTED HARD to get someone to actually help you buy something? It's maddening.
Before heading back into the cold, I decided to give Stride Rite one more chance. I managed to buy a pair of shoes this time, but the teenager who "helped" me didn't seem to know much about fitting babies, and I didn't feel very confident in my selection. So on a whim I stopped by Naturino—a shop selling horribly expensive European children's shoes—on my way home. There a very nice young woman offered plenty of good advice, helped me select a shoe that will give Simon some ankle support once he starts to move, and then—hilariously—apologized for not being more of an expert. The owner was out today, she explained, but she'd do the best she could for us.
And that, ladies and gentlemen, is how I managed to blow $65 on a pair of shoes for a child who is not yet walking. It's not something I plan to make a habit out of, but it sure beats spending $50 for a pair of shoes that, as it turns out, didn't offer the right kind of support and that were sold to me by an under-trained staff. Grrrrrr…….