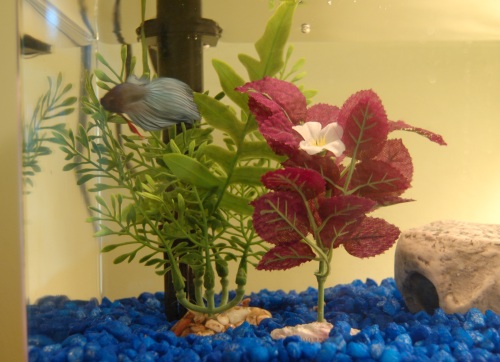 or: How I Learned to Stop Worrying and Love a Fish
Two weeks ago or so, Simon attended a friend's birthday pool party. It wasn't the perfect set-up for him, as the pool was so cold he didn't want to spend much (or any) time in it. Still, he played outside, enjoyed being with his friends, and devoured a cupcake and some pizza.  That's not too shabby for an otherwise under-booked Saturday afternoon.
Nor was it the perfect set-up for me, as (1) the pool's shallow end was still over 3 feet, meaning mamma had to don a suit and get in the very cold pool with Simon*; and (2) the party favor was a fish. Yes, a real, living, breathing, swimming fish.
All I knew about keeping fish at this point was that I didn't know how to do it. So when Josephine's** mom handed me the bag with the blue betta fish in it, I considered handing it right back. I was only stopped by my own fear of appearing rude and Simon's obvious excitement. We arrived home two hours before the local pet store closed, giving me 45 minutes or so to learn what Phineas needed and an hour or so to go procure it. I wasn't sure what to do with little Phineas***, and worried as I was about water changes, I opted for the "first do no harm" approach of dumping him and the entire contents of his bag into a hurricane lantern until I figured it out.
After some frantic research, I went out and bought a two-gallon filtered aquarium, two plants, some food, water conditioner, and decorative gravel. I rinsed the entire aquarium (but no soap!) before its first use, and let the entire thing run for 12 hours before transporting Phineas. These measures ensured that the water was clean, well conditioned, and the exact same temperature as his previous water when he moved into his new home. As bettas are very sensitive to temperature changes, this step was crucial.
The next day, I met many of my fellow KIP parents at a school fall festival. Two got bowls for their fish, one used water conditioner and the other just distilled water. Another tossed fishy into his Koi Pond and called it a day. All three laughed at me for "spending too much money" and making too much of a to-do over my little fish. "You're over-thinking this" was the explicit and implicit statement.
Guess who's fish is the only one still swimming?
Sometimes, by George, it's good to be a little OCD. Furthermore, Simon is sufficiently attached to Phineas I had better do right by him. Just Thursday night, Simon awoke at 5:30 a.m. because of a nightmare that something bad had happened to him; he only calmed down when Matt turned on the light and showed him that Phineas was happily swimming in his tank. Just keep swimming, Phineas, just keep swimming…
—
*At both this party and the pool this summer, I have been the only mom to show up in a standard two-piece suit. All the others are in tankinis, and most are in skirted tankinis. Honestly, I look terrible in those! And yet, I have to wonder if I'm breaking some "decent lady/mommy at the pool" dress code. It's kind of funny to think that I of all people might be the trashy/inappropriate one poolside!
**Name changed.
***About the name Phineas. It was created on the spot, the aim being to have a play on words with "fin". The next day, I began to consider our other options, like Fingal, Finbarr, or Finnegan. I especially loved the last idea, as it would allow me to host "Finnegan's Wake" in the event of a piscine tragedy. Simon was having none of it, so Phineas it is and shall remain.